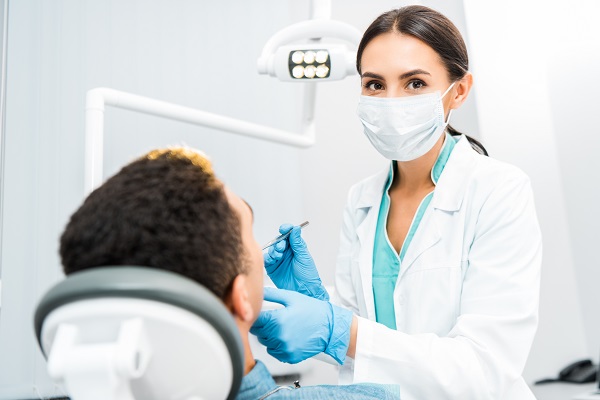 Emergency Dentistry and the Coronavirus (COVID-19) Disease: When a Tooth Goes Numb
Curious about emergency dentistry during the coronavirus (COVID-19) disease pandemic? The COVID-19 outbreak has caused many dentists to limit their elective services and transition into only treating patients who need emergency dentistry. Due to this, it is important for people to understand what constitutes a dental emergency. One of the more common oral health concerns is a numb tooth, and in severe instances, it can require emergency dentistry.
Emergency dentistry for a numb tooth during COVID-19
By learning more about when a numb tooth requires emergency dentistry, you can make a more informed decision about when to call a dentist for prompt assistance. The following is an overview of what it means, what to do and the treatment options for when a tooth goes numb.
What does a numb tooth mean?
A numb tooth could indicate one of several possibilities. Perhaps most commonly, a numb tooth suggests that there is an oral infection that has spread to the root of the tooth. If the dental pulp in the root of the tooth becomes infected, then it may require a root canal therapy to treat. Oftentimes a numb tooth occurs once a cavity in the tooth worsens, but it could also be the result of dental trauma. A dentist will likely need to examine the tooth to determine the cause and best method of treatment.
What do I do if my tooth goes numb?
Numbness in a tooth is not generally a serious health concern, but it does sometimes require emergency dentistry treatment. As mentioned, a numb tooth indicates there is an issue with the nerves and root of the tooth. Whether this numbness is due to tooth decay, dental trauma or another health concern, the first thing to do is to call a dentist to find out what steps to take. Most will likely suggest coming into the office for emergency dentistry treatment.
Does a numb tooth require emergency dentistry?
A numb tooth does require prompt treatment in most instances. If there is only minor soreness, swelling and pain, then keeping the area clean through the use of gentle brushing and mouthwash may reduce the symptoms and allow the patient to wait for a more opportune time. However, if the tooth goes numb, meaning the person can no longer feel the tooth, then it is encouraged to visit a dental practice that offers emergency dentistry during the COVID-19 outbreak.
Treatment options for a numb tooth
The treatment for a numb tooth depends on the cause. A dental filling is often not enough for tooth decay that results in a numb tooth as the numbness indicates an issue with the root of the tooth. In this case, a root canal is likely in order. If the numbness is caused by trauma that results in a severely damaged or broken tooth, then a root canal or tooth replacement might be necessary.
Do you currently have a numb tooth?
To learn more about how emergency dentistry can treat a numb tooth, reach out to our team today. We can answer your questions and ensure you get the prompt treatment you need in a dental emergency during the COVID-19 outbreak.
Request an appointment or call Dr. Morsy Dental Services at (951) 686-7420 for an appointment in our Riverside office.
Check out what others are saying about our services on Yelp: Read our Yelp reviews.